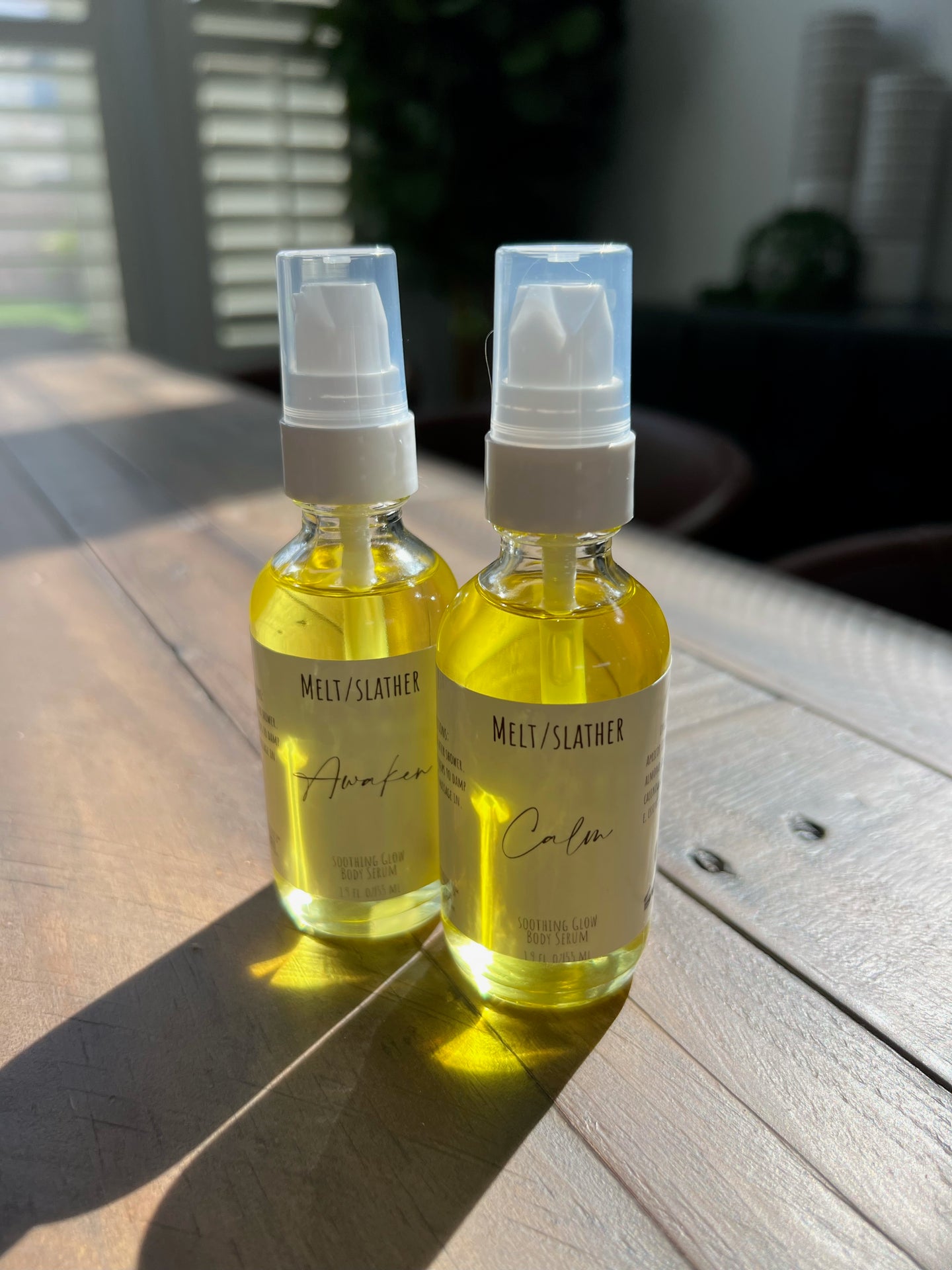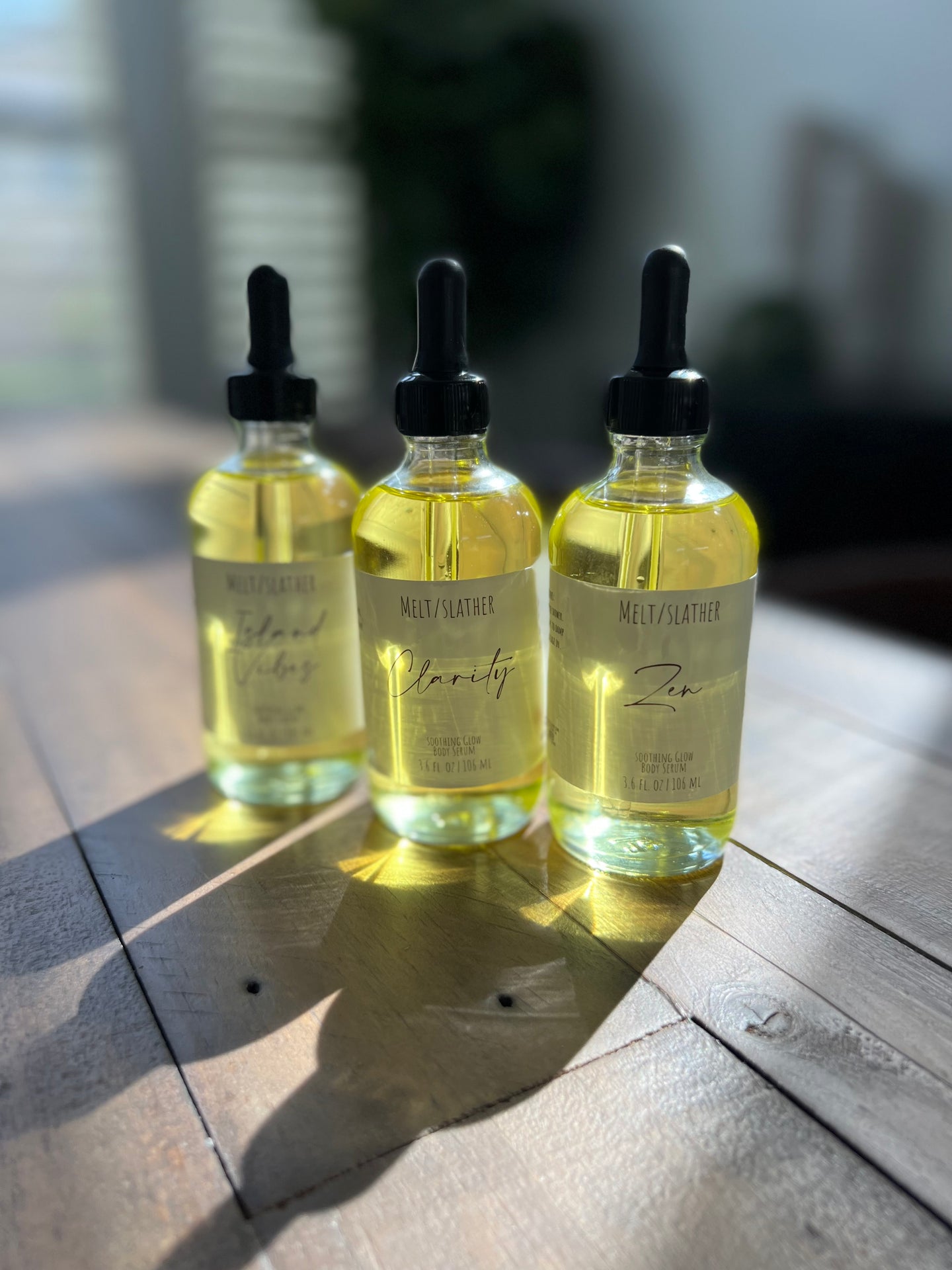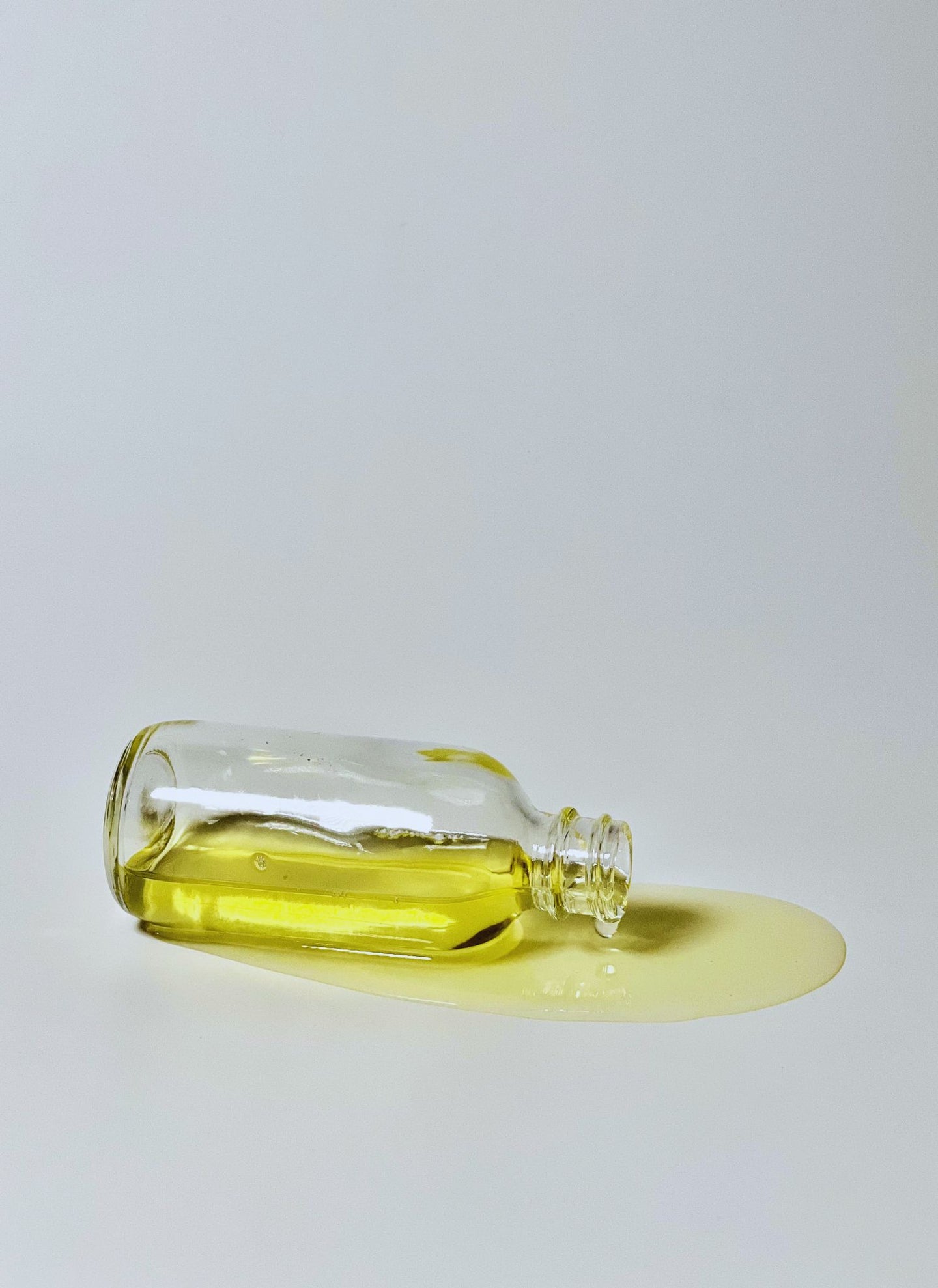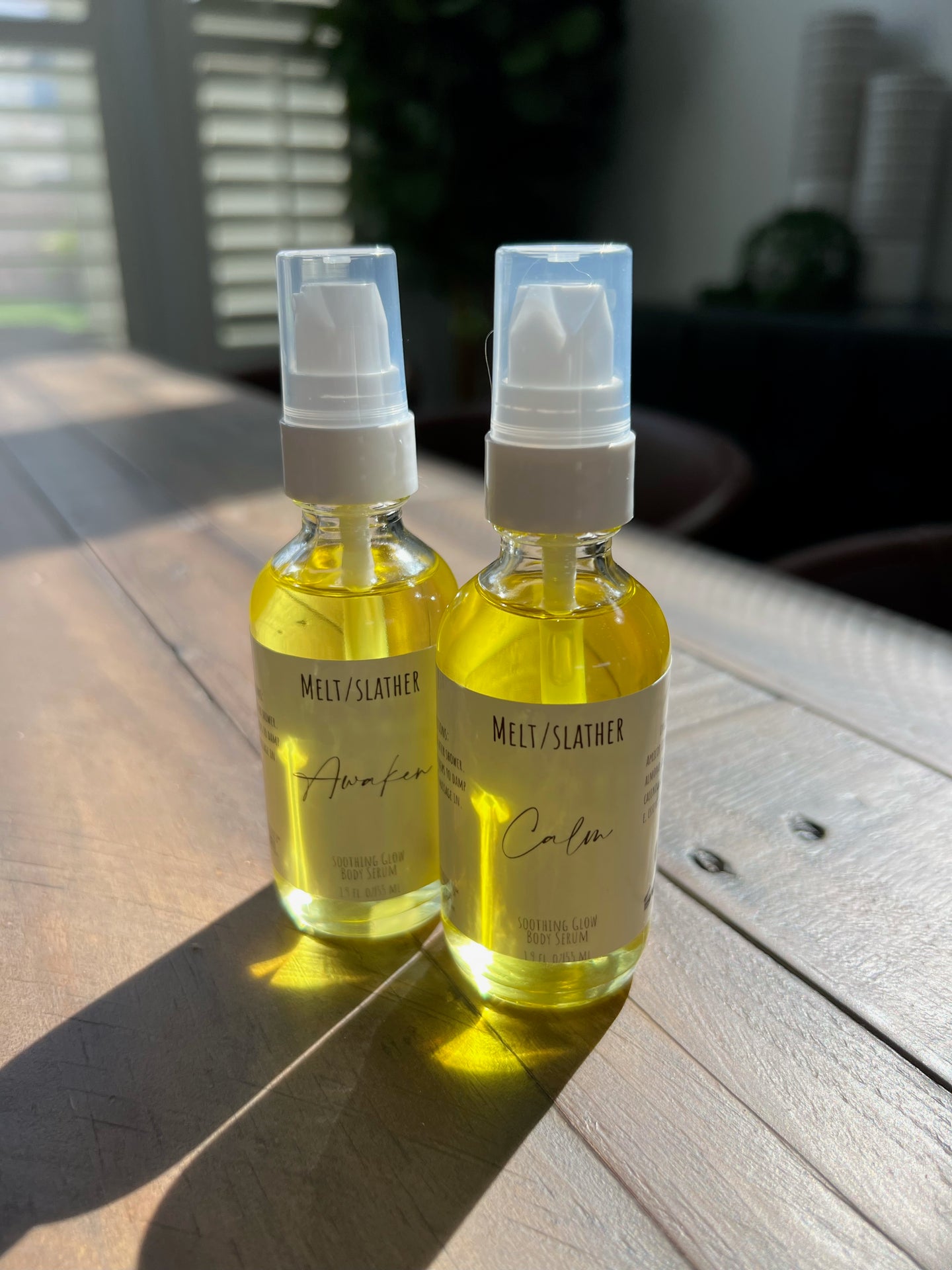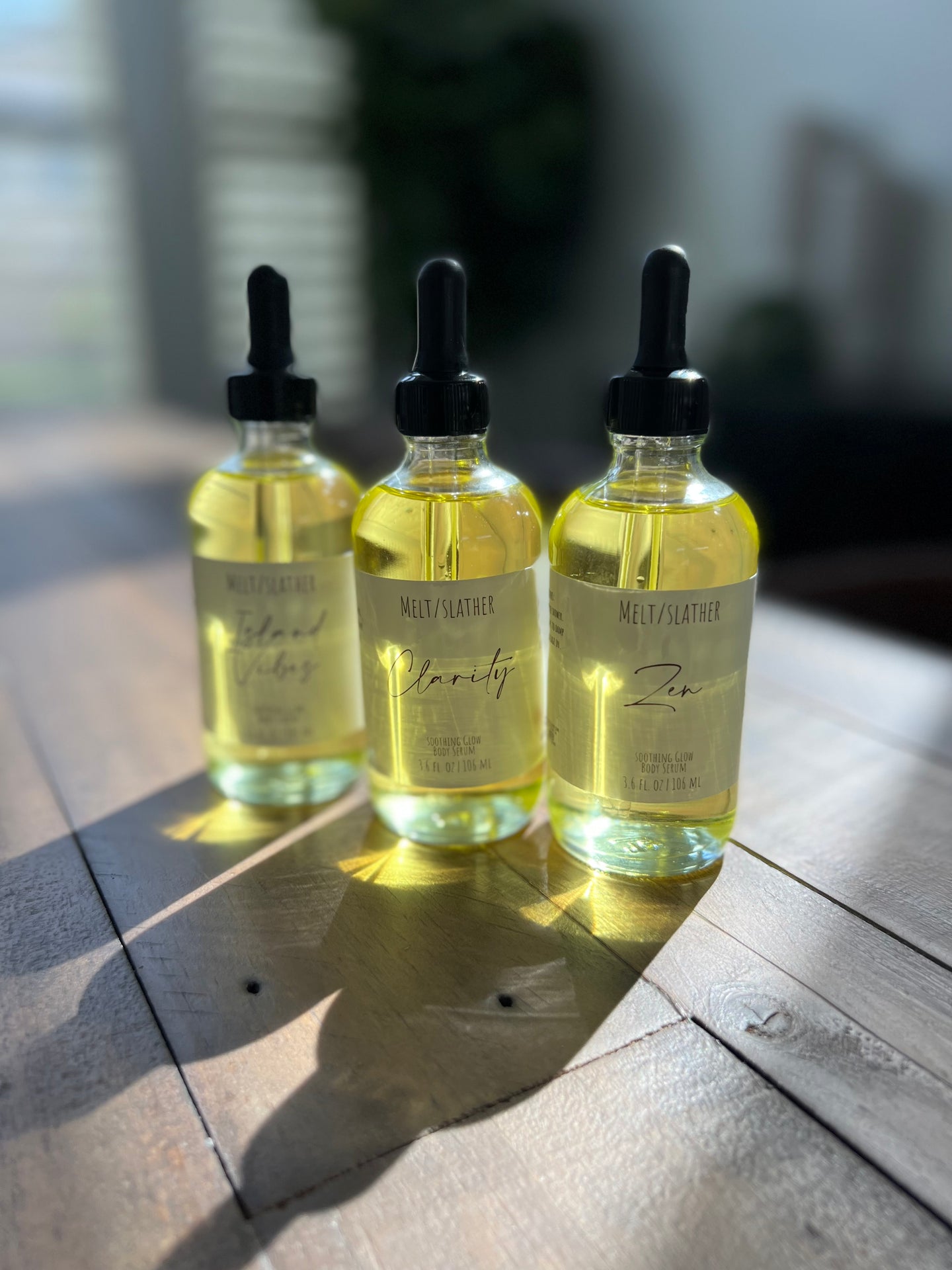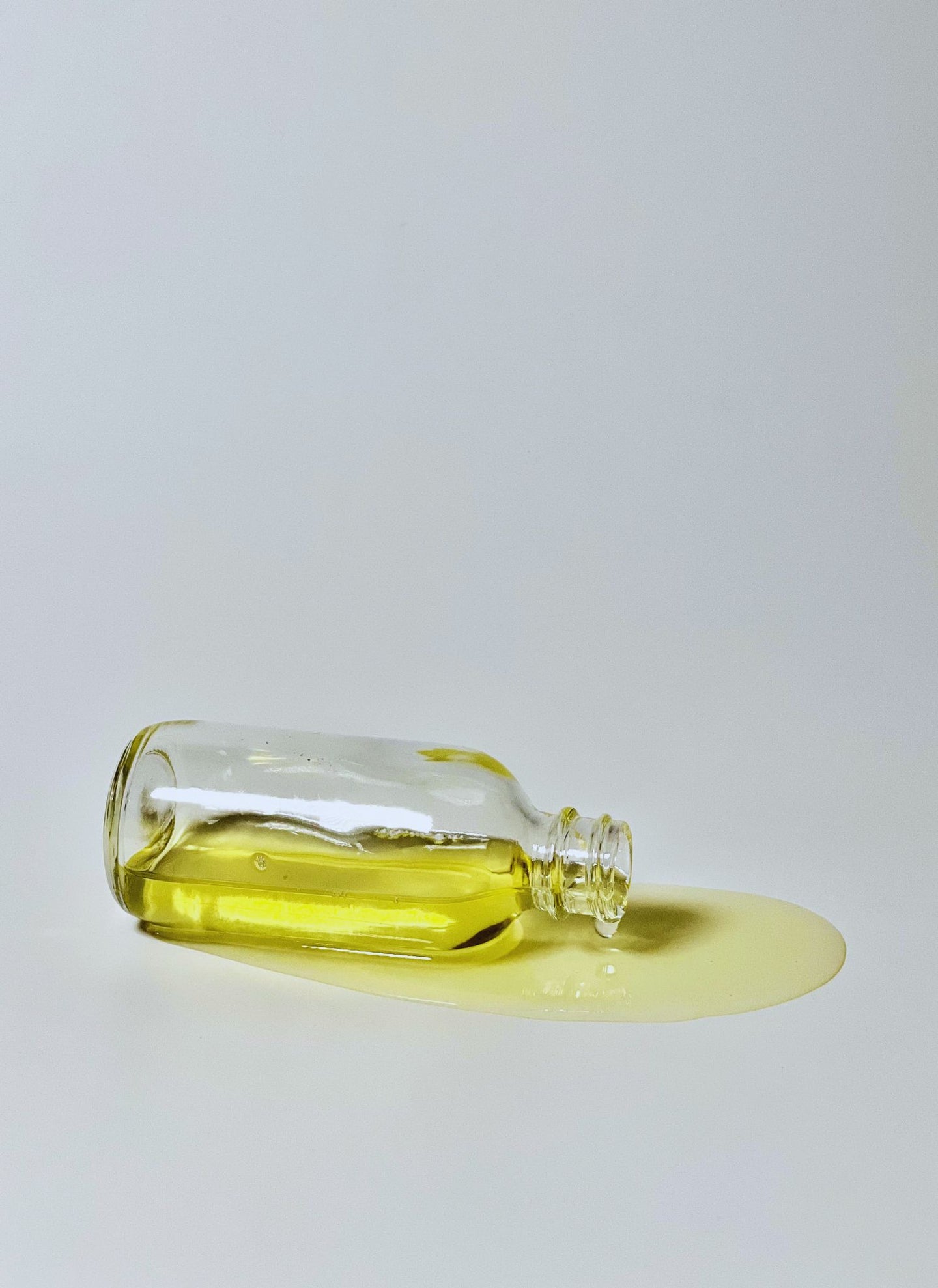 Soothing Glow Moisturizing Body Oil
Regular price
Sale price
$7.50 USD
Unit price
per
Lock In The Moisture.
Created to give your skin a light, but effective moisturizing experience, this calendula infused oil sooths, moisturizes and protects the skin while providing a good source of antioxidants. The combination of oils wont clog pores, but will leave your skin smooth and nourished.
Cold Pressed Oils. Vegan. Paraben Free. Phthalate Free oils. Silicone Free. Dye Free. Cruelty Free. 
Always made in small batches for quality and freshness.
Directions:
Best if used after shower. Apply a few drops to skin, and massage in. Store at room temperature, out of direct sunlight.
Ingredients:
Apricot Kernel Oil, almond oil, jojoba oil, calendula oil, vitamin e, fragrance or essential oils
What's in your body oil:
 Apricot oil: It contains vitamins E, C, and A, as well as fatty acids, which helps to smooth and soften skin. This oil can help decrease the fine lines and wrinkles visible on the skin. It is antioxidant rich, helping the skin fight free radicals that can harm your skin (causing again skin)
Almond Oil: Contains vitamins D & E along with various other minerals to help sooth the skin, protect it from UVA & UVB damage, and helps maintain  the skins moisture barrier by reducing the loss of water through the skin.
Jojoba oil: Not really an oil, but a wax that mimics the body's natural sebum. It helps to control the amount of sebum produced by the body, which can help to keep the skin free of acne. It wont clog pores, but will help seal in your skins moisture, protects against antioxidants, helps to sooth the skin and provide it with hydration.
Calendula: Provides great soothing properties, especially for sensitive skin. The inclusion of calendula also provides further antioxidants and hydration.
Vitamin E: A great antioxidant, skin barrier booster, and hydration oil. This oil also help to keep the other oils stable (preventing oxidation in the bottle and on the skin).
Fragrance: Either natural essential oils, phthalate free fragrance oil or unscented
Choose from one of 6 scents:

Clarity: Spearmint|Sage|Bergamot Spice|Leather|Eucalyptus

Calm: Lavender| Cedar| Powder| Eucalyptus| Camphor|Jasmine

Zen: Wild Flowers| Herbal Notes| Aloe

Awaken: Citrus| Jasmine| Berries| Weedy brambles

Island Vibes: Creamy Coconut| Sugar| Tonka Bean| Vanilla| Pineapples

Unscented
*Each batch is handmade in small amounts to ensure quality and freshness. As each batch is made from scratch, please keep in mind that the appearance of each batch may vary.  
DISCLAIMER
Please note that none of Melt/Slather products have been tested on animals or evaluated by the Food and Drug Administration. This product is not intended to treat, cure, diagnose, or prevent any disease. Discontinue use if irritation occurs.
Return & Refund Policy

For all candle or wax melt items, return of unused, unopened products will be accepted within 15 days of receiving the item. For information on initiating a return, please contact us at: support@meltslather.com.

If you have any issue with a personal hygiene/body product, please contact us at: support@meltslather.com so that we can provide a resolution, as returns for these items cannot be accepted.

Gift cards and sale/clearance items are not returnable.
Shipping Info

HOW MUCH DOES SHIPPING COST?

The shipping fee varies depending on the shipping destination and the weight of items you purchase. You can check the estimated shipping fee by adding items to your cart, proceeding to checkout, entering your email address and shipping address. The exact shipping fee will be automatically updated and displayed on the checkout page.

----

WHERE DO WE DELIVER?

Currently, we only provide shipping within the United States.

----

HOW LONG WILL IT TAKE FOR THE BUYER TO RECEIVE THEIR ORDER?

The actual shipping time and delivery date may vary depending on the local postal service in your area. You can refer to the standard shipping time below:
- On average, orders usually ship after 1-7 business days from the date the order date.
- Orders may arrive approximately 2-10 business days after being shipped (arrival date varies dependent upon shipping carrier).

PLEASE NOTE: If we are experiencing a high volume of orders, shipments may be delayed by a few days. Additionally, nationwide and global shipping delays (such as those caused by COVID-19, holiday volumes, or inclement weather) may impact your estimated delivery date.

Once your order has shipped, you will receive an email with a tracking number to track your order via the chosen carrier. Once you receive your tracking number, please allow up to 48 hours for the tracking portal to update.

----

CAN THE ORDER BE DELIVERED TO MULTIPLE ADDRESSES?

We do not accept shipment to multiple addresses for a single order. If you would like items delivered to multiple addresses, please place those orders separately.

----

DO YOU OFFER DELIVERY TO PO BOXES, MILITARY APO/FPO ADDRESSES OR FREIGHT FORWARDERS?

We support shipments to PO Boxes, but we cannot ship to Military APO/FPO addresses or freight forwarders at this time.

----

WHAT IF MY PACKAGE WAS MARKED DELIVERED, BUT I NEVER RECEIVED IT?

If the tracking for you package has been marked delivered, nut it is not received after 3 days, please contact us at support@meltslather.com, and we will assist you in the nest steps.


WHAT IF MY PACKAGE WAS LOST/STOLEN?

If your package is lost by the carrier, please contact the carrier to have them attempt to track the package down. Melt/Slather is not responsible for lost. stolen or damaged shipments. All orders shipped with USPS Priority come with $50 package insurance. Please contact USPS to start an insurance claim.
Share